Historic Creek Maps
The East Bay landscape, including creeks, has been transformed since the late 1700s, when missionaries and settlers from Mexico brought cattle and farming, and the California Gold Rush in the mid-1800s brought city building. Wetlands have been filled and drained, creeks stripped of gravel, eroded, straightened, and forced into pipes. Hills have been dynamited and fill has extended the Bay shore in odd, often rectangular chunks. The maps here give an idea of these changes.
Creek and Watershed Map of Oakland and Berkeley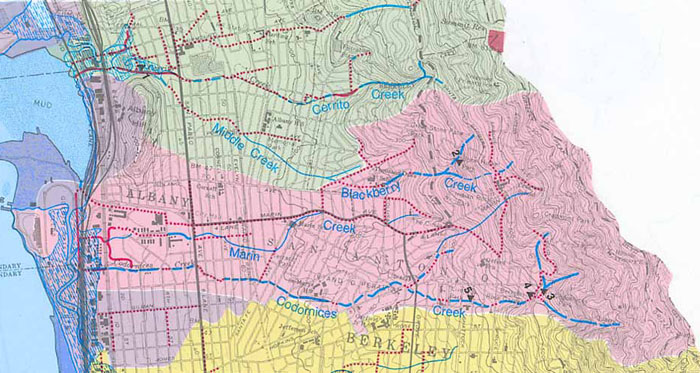 Creeks in Friends of Five Creeks' area, from Schoolhouse north to Cerrito, as shown in Creek and Watershed Map of Oakland and Berkeley, published by the Oakland Museum of California. On this map, different colored backgrounds indicate different watersheds, thin blue lines show former creeks c. 1850, thick blue lines show remaining open creeks, solid red lines show engineered open channels, and dotted red lines show underground culverts and storm drains. This is probably the most accurate map available showing both historic and current creeks, though this map does not attempt to accurately map upper seasonal tributaries. Maps may be purchased from the Oakland Museum. A larger map is available.
Creek and Watershed Map of El Cerrito and Kensington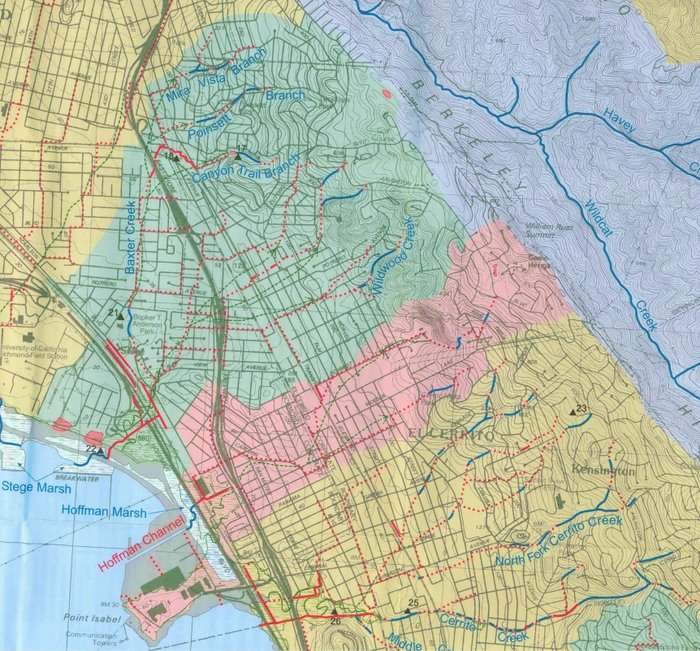 Creeks from Cerrito Creek north, in El Cerrito and Kensington, as shown in Creek and Watershed Map of Richmond & Vicinity, published by the Oakland Museum of California. For explanation of symbols, see above under the map of Oakland and Berkeley. A larger map is available.
Shellmound Map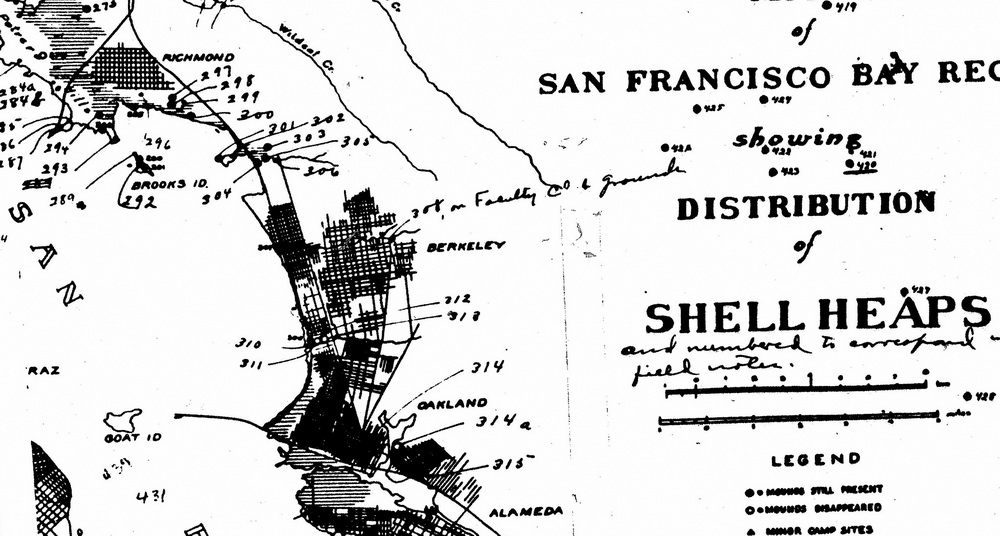 An early 20th Century map of the Native American shell middens that ringed the Bay shows how these heaps built up at setlements, ringed the large salt marsh that ran from north of Albany Hill to behind Point Isabel (then a rocky island at high tide). The full shell mound map is here (caution: large file).
Coastal Survey Maps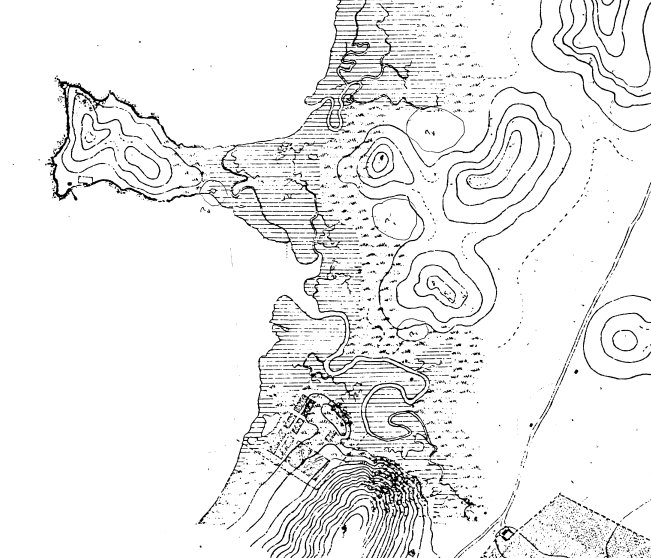 One of the earliest maps of our area, the 1853 U.S. Coast Survey, shows Cerrito Creek winding to San Francisco Bay through extensive marshes south of Pt. Isabel, then a narrow rocky point. Ohlone settlements on the northeast end of Albany Hill and on Pt. Isabel had already vanished. The double line indicates San Pablo Avenue, then the only road. The small square at lower right is the Victor Castro adobe, on the site of today's El Cerrito Plaza. A larger map is also available.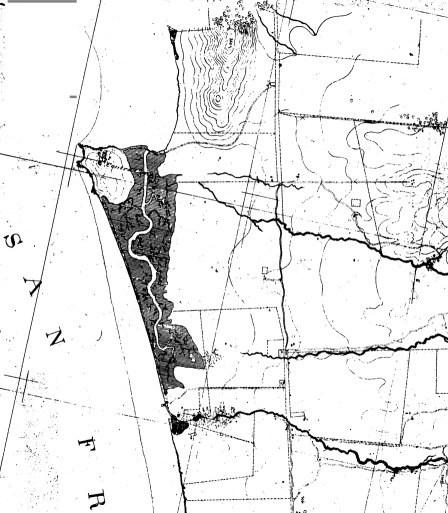 This 1856 U.S. Coast Survey map shows the original shoreline of North Berkeley and Albany. A long sandy crescent of beach ran to Fleming Point, then a prominent sandstone hill (now Golden Gate Fields racetrack). Behind this, a large salt marsh was cut by a north-south running tidal slough (one of Friends of Five Creeks' goals is restoring a small part of this marsh near the mouth, just south of today's Buchanan Street in Albany). On this map, Marin, Codornices, and Schoolhouse Creeks seem to stop before they reach the slough — they may have emptied into moist grasslands. Strawberry Creek, the southernmost creek shown, runs to a willow marsh, or sausal, and a small inlet. At the top (North), Middle Creek empties into a willow marsh on the northeast side of Albany Hill. This marsh in turn drained to Cerrito Creek. The north-south running road is San Pablo. Note how few trees are shown — Berkeley, Albany, and El Cerrito were mostly grasslands. A larger map is also available.
Land Case Map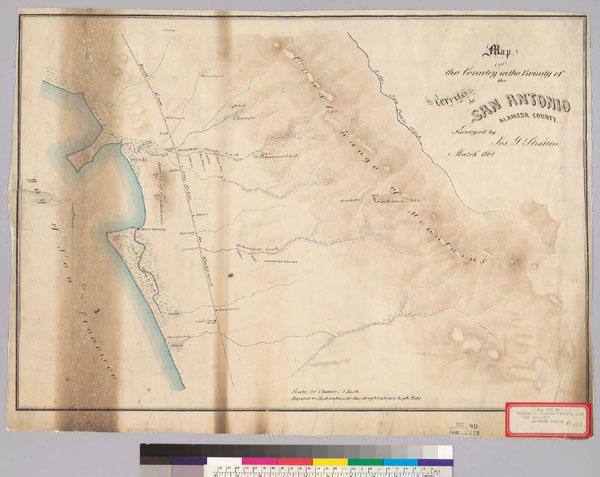 Map of the Country in the Vicinity of the Cerrito de San Antonio, Alameda County, 1861. Maps of Private Land Grant Cases of California, LAND CASE MAP E227, The Bancroft Library, University of California, Berkeley. A larger map is also available.
This 1861 map of the Friends of Five Creeks area is one of the most detailed available. It shows the few houses and businesses of the time, as well as the first schoolhouse, beside Schoolhouse Creek. Prominent rocks, willow groves — even some individual trees in the largely treeless flatlands — are noted.
Strawberry Creek, the southernmost creek, is shown as dividing in the flatlands, with a side channel running southwest. Some other early maps also show this feature. Near the creek's mouth, you can see the Indian shell mound beside the willow grove and the starch factory, Berkeley's first industry.
The maps show that Schoolhouse Creek, the unnamed creek between Strawberry and Codornices, flowed into a sausal, or willow marsh, at the head of the tidal slough that flowed north through a large salt marsh, reaching the Bay behind Fleming Point (today's Golden Gate Fields race track).
Like other early maps, this one shows that Codornices Creek disappeared as a distinct channel west of today's San Pablo Avenue (the wagon road from Oakland to the Castro's Rancho San Pablo). Marin Creek, north of Codornices, similarly disappeared. The waters presumably filtered through grassland to the salt marsh and slough. Thus the creek channels edging today's University Village — Codornices Creek and Village Creek — are largely artifacts created to drain this area, now become living creeks. Codornices even has a large trout population.
You can see how a fan of creeks joined Cerrito Creek to wind through another large salt marsh north of the Cerrito de San Antonio, now Albany Hill. The southernmost creek in this fan is today called Middle Creek in Albany. Blackberry and Capistrano Creeks in Berkeley. The waters of Blackberry Creek are piped into the culvert that buries Marin Creek. But the sausal, or willow grove, at the creek's mouth remains — the only one of all those shown on this map. The creeks north of Cerrito were never formally named. Today, they join Cerrito from pipes at Adams Street, just west of San Pablo Avenue. The southernmost one is the creek that flows from Kensington down through the cemetery and East Bay MUD plant.
Note the small summit with a house on it at the north end of the Cerrito de San Antonio. This vanished summit presumably was blasted off and used for fill.
Today's Wildcat Creek, on the other side of the hills, is called "Little San Pablo Creek" on this map. Other maps of the time show Wildcat and San Pablo Creeks flowing together into the marshy area near their mouths.
1892 Map
This 1892 map of parts of Alameda and Contra Costa Counties shows the Cerrito Creek watershed, including several small creeks that flowed fan-like into the salt marshes that ran from the north end of Albany Hill to beyond Point Isabel. Portions of these small unnamed creeks still flow aboveground here and there in Kensington and El Cerrito.
Berkeley Historic Creek Map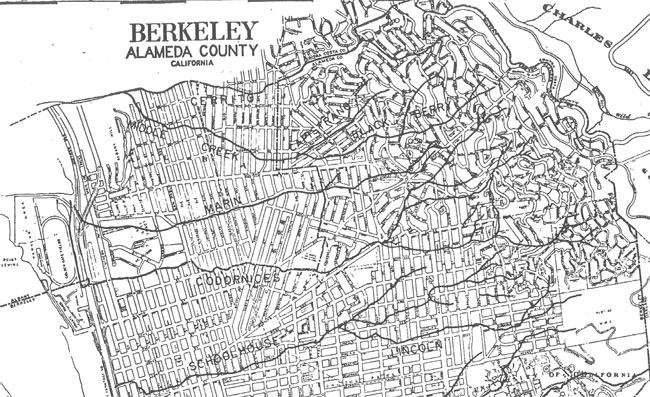 This map of the historic creeks of Berkeley and Albany is available from the Berkeley Department of Public Works. It is fairly accurate, but does not show the north fork of Cerrito Creek (in El Cerrito) or the middle fork of Codornices Creek (immediately north of today's Codornices Park). In addition, it shows only the modern shoreline, not the historic slough and salt marsh. A larger map is also available.
USGS Map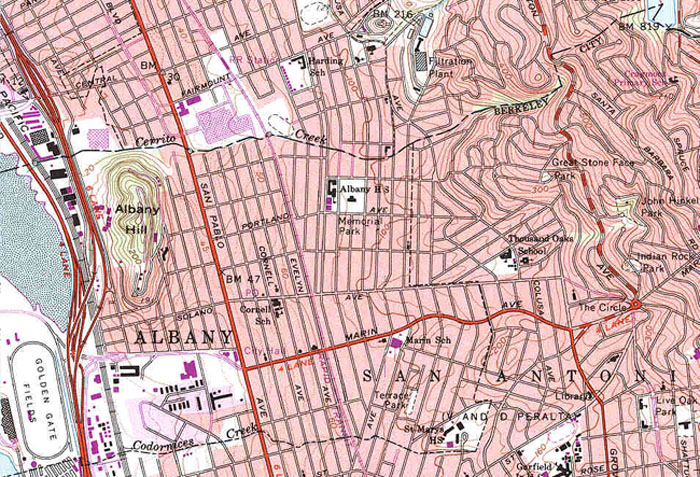 This is a contour map for the Cerrito Creek watershed from the USGS. A larger map is also available, as are elevation profiles for the north and south branches of the creek.